Step One: INCOMING INSPECTION
Your aircraft is thoroughly inspected upon arrival by our acceptance team. Any noted areas of concern or unknown defects will be brought to your immediate attention for discussion and possible solutions.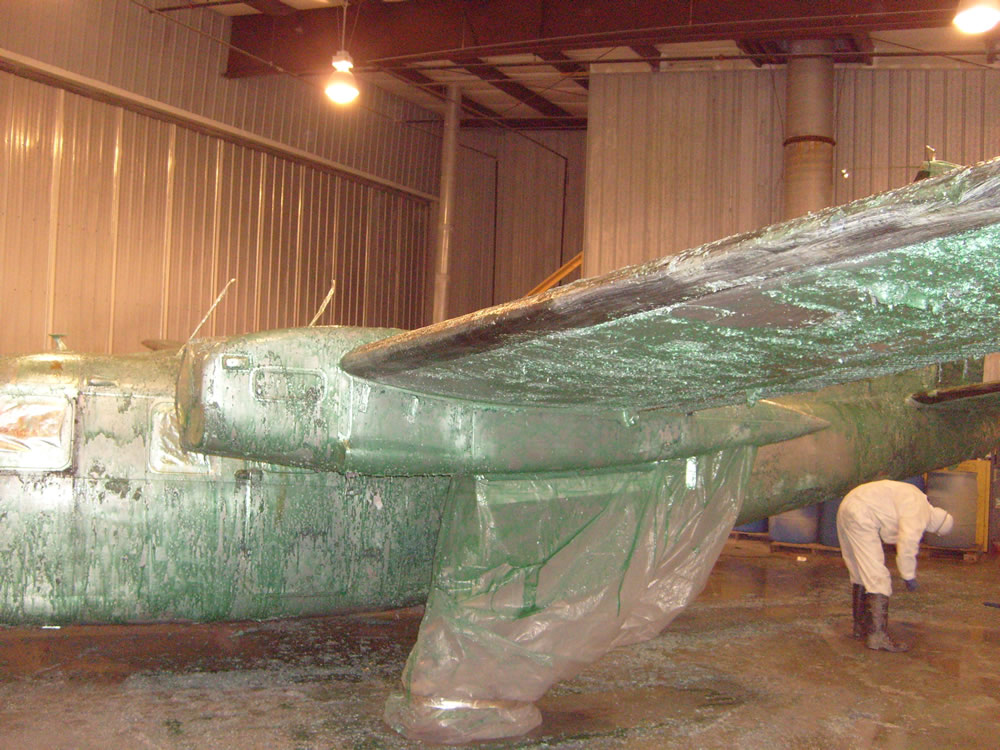 Step Two: PREPARATION FOR STRIPPING
Your aircraft is carefully prepared for chemical stripping.
We use only the highest quality methods to mask and carefully protect all openings, panels, fiberglass, and windows to ensure that the chemicals do not come into contact with any protected areas of your aircraft.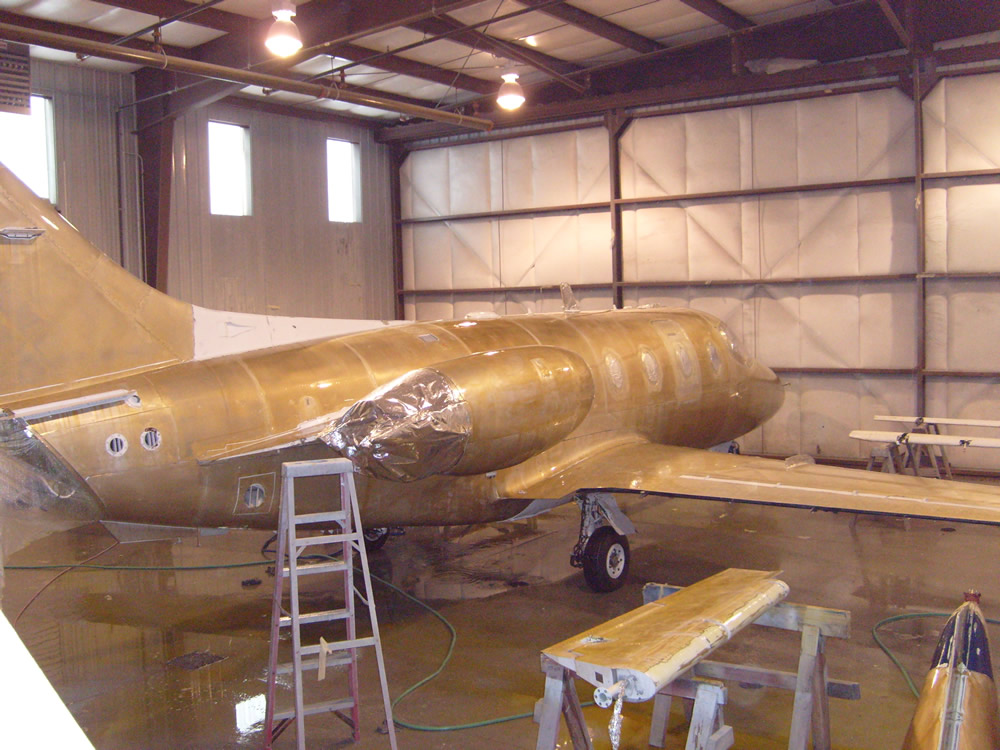 Step Three: METAL CONVERSION COATING
After your aircraft is stripped, we remove all flight controls and complete a second thorough inspection of the entire airframe and all associated flight controls and hardware.
We then clean the aircraft with an alkaline soap. This neutralizes the pH content of the aluminum aircraft metal to prepare for the conversion coating process. Any required aircraft skin repair can easily be accomplished at this time, as well as any fiberglass repairs.
Following this neutralization process, we apply an acid etch to all aluminum parts, including the entire airframe. All surfaces are cleaned, and we verify a water break-free surface.
Finally, we apply a chromate alodine coating in preparation for the application of aircraft primer.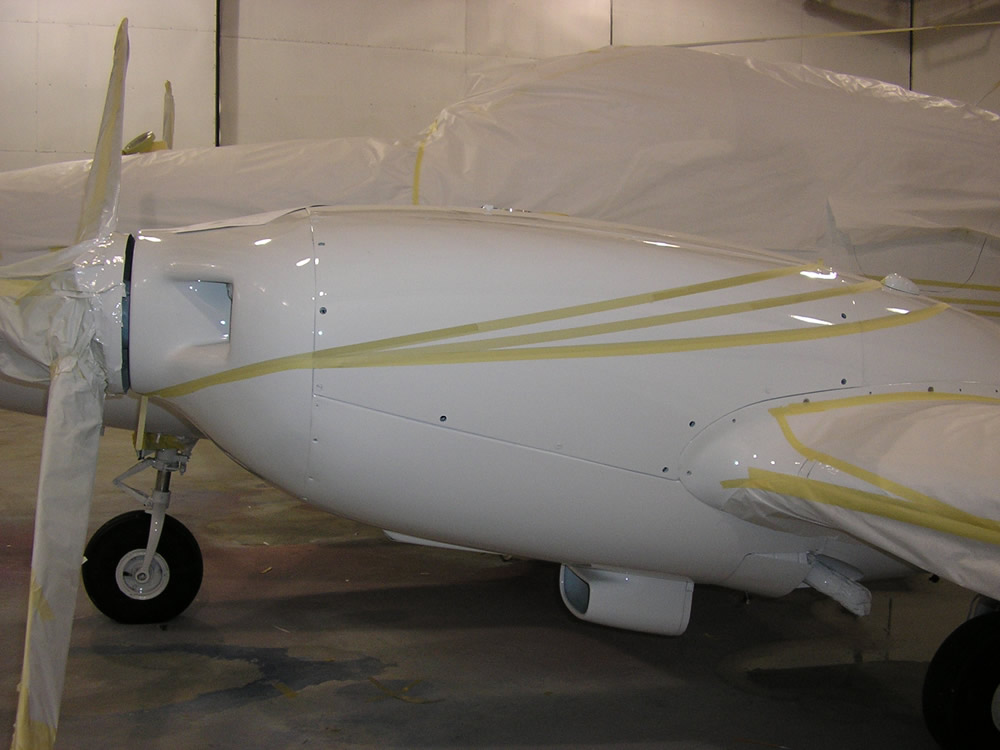 Step Four: APPLICATIONS
At the completion of all preparation, bodywork, lap sealant (standard on all turbo props and jet aircraft) and necessary fiberglass work is done, a coat of the most advanced chromate epoxy primer available is applied. This primer is carefully applied in exacting environmental conditions. Following the final post primer inspection, three applications of premium urethane paint are applied.
Note: Corporate jets require a sanding surfacer to be applied after the primer. This surface is hand sanded to a smooth finish prior to the application of base coat paint.
We use the finest ALUMIGRiP Advanced Coatings system, produced by AKZO Nobel Aerospace Coatings for all base coat applications. All trim colors are applied using Sherwin Williams' Acry- Glo custom trim system, offering the highest range of colors and a depth ranges. The finished product produces a deep beautiful mirror like gloss that sets your aircraft apart from the others.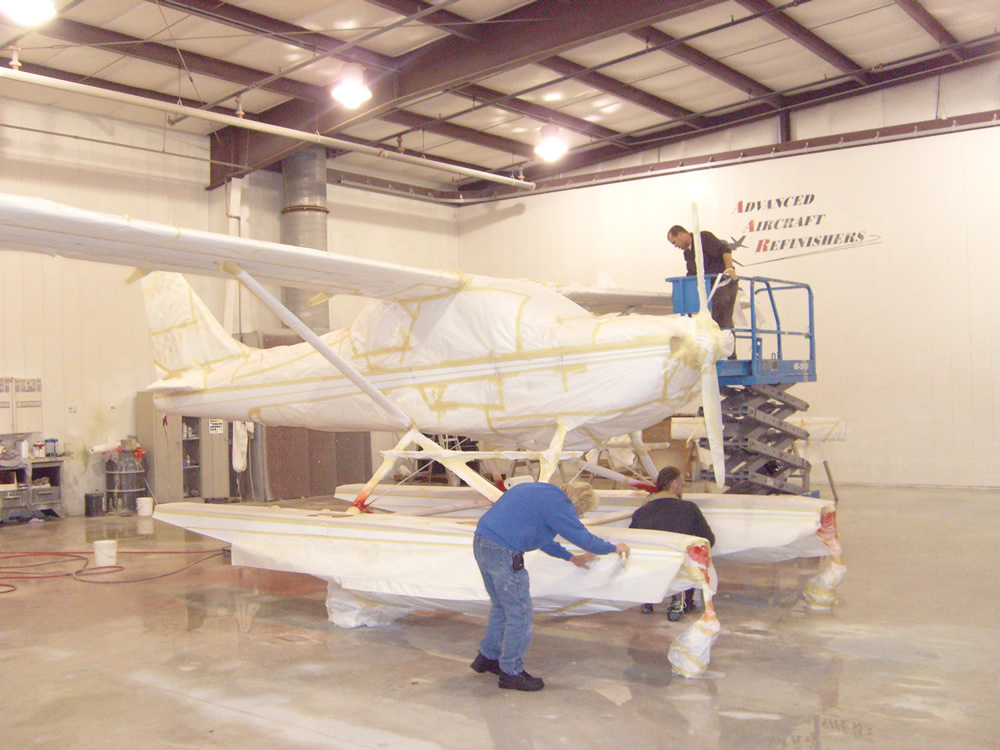 Step Five: STRIPE APPLICATION
Great care is taken to design the color scheme of your new aircraft. We work closely with you to create a new design according to your exacting specifications.
We take special pride in the sharpness and clean edges of the finished lines in your design as executed by our professional technicians.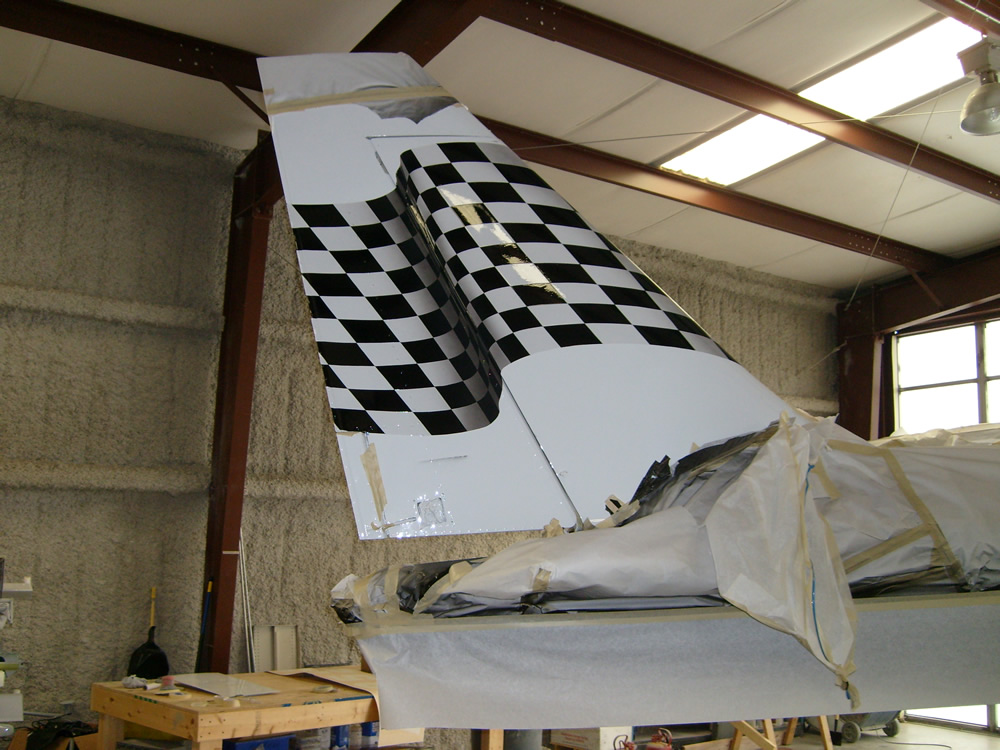 Step Six: REASSEMBLY
All flight controls are checked for balance and then re-installed on the aircraft. Flight control balance, rigging, and maintenance entries are standard with every aircraft completion.
Step Seven: FINAL DETAIL
Upon final assembly, as many as four full days are devoted to detailing your aircraft.
During this time, final erosion tapes, required placarding, and window sealants are applied.
Step Eight: INSPECTION AND DELIVERY
Prior to delivery, our FAA certified aircraft mechanics and inspectors make a final, thorough inspection of the entire aircraft.
A touch-up kit and all aircraft log book maintenance entries are provided to you
upon completion.